Canaletto's Regenbogenbrücke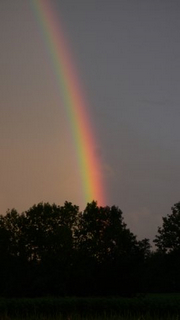 auf englisch gibt es ein schönes, tröstendes Gedicht:


Lend Me A Kitten
I will lend to you
for a while a kitten, God said.
For you to love while she lives,
and mourn when she is dead
*
Maybe for twelve or fourteen years,
or maybe two or three.
But will you, till I call her back,
take care of her for me?
*
She'll bring her charme to gladden you
and should her stay be brief,
you'll always have her memories
as solace for your grief.
*
I cannot promise she will stay,since
all from earth return, but there are
lessons taught below this kitten is to
learn.
*
I've looked the whole
world over
in search of teachers true,
and from all the folks on earth
I have chosen you
*
Now will you give her all your love,
not think the labor vain?
Nor hate me when I come to take
my kitten home again?
*
And my heart replied,
"My Lord, that will be done."
For all the joys this kitten brings,
the risk of grief I'll run.
*
We'll shelter her with tenderness,
we'll love her while we may,
and for the happiness we've known,
forever grateful stay.
*
But should you call her back
much sooner than we planned,
we'll brave the bitter grief that comes,
and try to understand.
*
If by our love we've managed
your wishes to achieve,
in memory of her sweet love,
please help us
while we grieve
*
When our cherished kitten departs
this world of stress and strife,
please send yet another needing soul
to love for all her life
***
so God has lent me (for a while):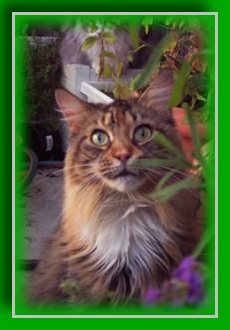 AngelFire's HappyEnd of Canaletto's
blackmackereltorbie/weiß - geboren/born: 14.06.1998 gest. 19.05.2005

Vater/Sire:Jellybaby Red and Hot v. Roggenberg (red classic tabby/weiß)
Mutter/Dam:Vergy of Forestsprite (black mackerel tabby)

Canaletto's UncommonGrace
bluetorbieclassic/white - geboren/born: 19.05.2005 gest. 01.05.2006

Vater/Sire: CH Morningsun TeddyBlue of Canalettos (blue)
Mutter/Dam: AngelFire's HappyEnd of Canalettos (blackmackereltorbie/white)

Canaletto's RoanokeBlueBeau
- bluetabbyblotched/white - geboren 16.10.2009 - gest. 18.02.2011
Vater/Sire: CH Dotcom Lance of Canaletto's(bluetabbyblotched/white)
Mutter/Dam: Gr.Int.Ch/IP Canaletto's RoanokeBlueBelle (bluetorbieclassic)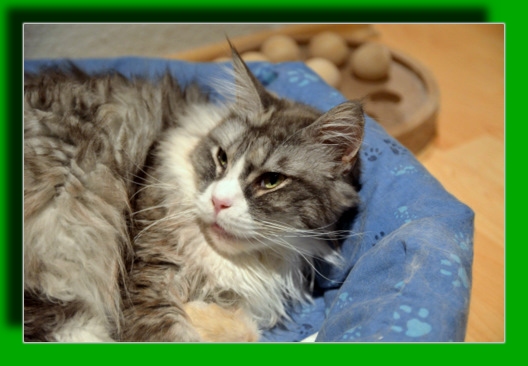 Canaletto's DetroitLioness
bluesilvertortiemackerel/white - geboren 28.05.2007 - gest. 03.06.2011
Sire/Vater: Euro Ch.(FIFe)/ CH (CFA) Canaletto's YankeeDoodleDandy DVM (blacksilverclassictabby/white)
Dam/Mutter: CH (FIFe) Witchwood Batida of Canaletto's (redsilvermackereltabby/white)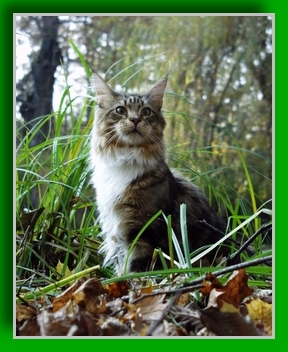 CH (TICA) / CH (FIFe) Dotcom SpitfirePilot of Canalettos
blacktabbyblotched/white - geboren/born: 05.05.2006 gest. 12.08.2008
Vater/Sire: CH Lacocoon HeyJude (blacktabbyblotched/white)
Mutter/Dam: Dotcom Mignonette (blacktabbyblotched)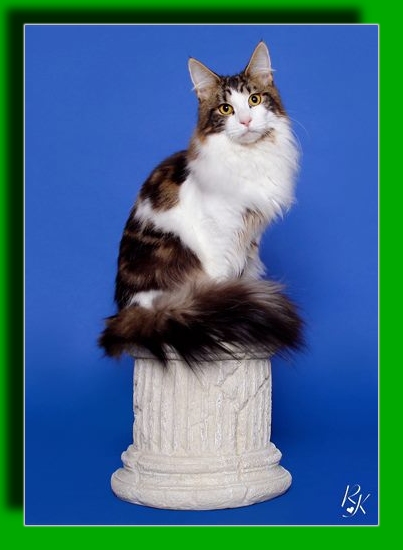 IC(FIFé)/CH (CFA) Cumbrescoon Rhonda's Treasure
blacktabbyblotched/white geboren: 06.07.2011 - gestorben: 08.03.2013
Vater: CH. Acadiacoons Madockawando (blackmackereltabby/white)
Mutter: Cumbrescoon Flower (bluemackereltabby/white-van)
zu Treasure's Nachruf auf Lizas Seite


stellvertetend auch für
Canaletto's Lord Arthur,
Canaletto's Minnesota Minnie,
Canaletto's Just-In-Time
und die Katzenbabies, die es nicht geschafft haben ein angefangenes Katzenleben auch zu vollenden.



..und für Manu, die 8 Maine Coons, zwei davon von uns,
als Mitbewohner hatte (und nen Mann) - die Anfang 2010 schon mit 42 gehen musste.
Wir vermissen Sie sehr, denn sie war unsere Freundin.