Bavaria is the to each known and although still unknown southern part of the Federal Republic of Germany.
Many believe to know a lot about it but even we locals do not know "ois" - everything.
Here are some few highlights put together:

Bavaria has kept since the Middle Ages a relatively closed state area, around 18oo it grew bigger thanks to Napoleon ,
and after the 2nd World War, an entire region, the leftrhenanian Palatinate, now part of the federal state of Rhineland-Palatinate, got lost, but Bavaria - as a compensation of a kind and a consequence of the second world war - got the "Sudetendeutschen",
displaced germans from the former Czechoslovakia, as a "4.tribe" alongside Old Bavarians , Franconians and Swabians ..

Bavaria is only written with "y" since Ludwig I,
our hellenophile King made it so... and has retained - even when
it was forced in 1871 to join the "2. Deutsches Reich" (which perished in 1918) -
many own features and rights.

And Bavaria is very different as the folklore, the general belief and the tourism industry is telling us.
From the formerly agricultural Country in the past 60 years a modern Country,
embedded in the Federal Republic of Germany, but always a little off - (so has, for example,
Bavaria never signed the Constitution of the FRG, but only recognized it) has emerged....
This seems to be especially true since apparently all others believe that
it is best to live here in the south, especially around our capital Munich , ;)

Here now a bit of known and unknown Bavaria ..
mostly one off the major tourist destinations, a rural one full of popular piety,
hidden urban corners and yet full of high technology, sprinkled with the palaces ,
townhalls and places of a beloved and wellpreserved past
tradition, history and modern times joined in a best possible way:
"Laptop & Lederhosn"
- a pictorial ABC (another bloody church)-tour through "my" Bavaria:
castles, churches, cities, monasteries, places of pilgrimage and farmsteads.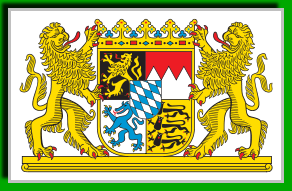 Bavarian Coat of Arms

Bavaria is composed out of seven administrative districts ,
the three "old" bavarian, wittelsbachian ones, Oberbayern, Niederbayern and the Oberpfalz,
and since the beginning of the 19.century also the three franconian ones Ober-,Mittel- und Unterfranken,
plus the area which is called bayrisches Schwaben :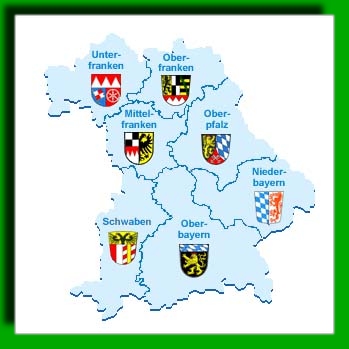 "Liberalitas bavarica"

"Self-understanding and self-governance of this country comes from a more than eventful 1000-year history. This historical heritage for us is still living reality. In the past centuries, political thinking and acting in Bavaria never relied solely on the land of Bavaria alone, never introducing a policy of selfishness and narrowness, but instead a policy of openness and liberality.

The situation in Bavaria as a country in the midst of Europe has built in the course of a long history diverse, strong and lasting human, cultural and economic ties with its neighbors in the east, southeast Europe and the Mediterranean.
The remains of the "limes" at the Danube and Altmühl recalls the several centuries long domination of the Romans in southern Bavaria, the gender towers in Regensburg the medieval merchants and their business-trips up even to Kiev, in the old bishops town of Passau the memory of the Bavarian mission and colonization activity in the middle Danube region awakens and Munich is not without reason seen as the German Rome.
This feeling of life, language, custom, tradition and historical consciousness of Bavaria, the architectural face of its towns and the Bavarian landscape testify how fruitful and lasting this long centuries of mutual give and take with our southern and eastern neighbors has become.

There is also a mutual Bavarian patriotism of all three tribes: Old Bavarians, Franconians and Swabians, whose target point is the Bavarian Constitution, notwithstanding the diversity between the Würzburg and Berchtesgaden, between Hof and Lindau. There are franconian, bavarian and swabian dialects spoken but the feeling is Bavarian all over..
This patriotism has nothing in common with the sometimes arrogant nationalism and intolerance of the late 19th and early 20th Century. It can even tolerate what is described as "Prussian", only that it doesn't make this to the guideline for the southern-German Bavarian lifestyle. In addition we also faced the successful integration, not melting, into the already existing ones, of the fourth Bavarian tribe, the "Sudetendeutschen"-sudetengermans from Czeceslovakia.
(Franz Josef Strauss, Barvarian Prime Minister1978-1988- free translation: myself)
This Bavaria, which is shown here can perhaps be best explained musically, with a Haydn Mass, the Chiemsee Mass (Missa in honorem Sanctae Ursula MH 546). Michael Haydn was for over 40 years the head composer at the Salzburg's prince-bishops court and the brother of the more beknown Joseph Haydn. Haydn composed his "Missa in honorem Sanctae Ursula" 1793 for the Benedictine Monastery on the island Frauenchiemsee in lake Chiemsee, he probably wrote it for the monastery profess of Ursula Oswald, an excellent violinist and singer.
For me it symbolizes something very bavarian, this lively, rokoko-like, spiritual, on which the country even today, despite all modernism, is based. Haydn's mass stands so for me for these spiritual and traditional roots of this country.
Roots we can not afford to lose by progress. Now it is so that progress is the enemy of the "traditional"- on the other hand, in the worst case, a rigid insistence on "tradition" without movement is stagnation and means no longer living but decay. However, progress must also be able to recognize traditions, to preserve and further develop what is good. Also to the progress seemingless and pointless things may even be important when it comes to returning to the roots. Progress, development is important – but it has to move in a tempo that even the slower ones can follow so they do not be left behind and get therefore lost.
Now it is so that we are living in the midst of an increasingly expanding and at the same time shrinking world, a world which is getting faster and more open, cosmopolite and multicultural. And a world where one also can get lost if one is not able to reflect on the roots of one's own culture. It is not only getting lost, with his own roots one is losing also his sense of where one "belongs", where ones "home" is ..
It may e.g. be more modern to attach oneself to foreign religions and their salvation promises - because for centuries the intellectual Europe tried devotedly and successfully to part itself from his own spiritual and cultural roots – which despite all of this effort all of us, however, still shapes.
If we live in Old Bavaria (and not in the Franconian protestantic-dominated parts of the country), no matter whether we are Christian Catholics, Protestants and Muslims, it is this bavarian catholic, joyful, spirited, baroque christianity which has created the psychological and moral superstructure for our culture through uncounted village churches, pilgrimages, monasteries which still forms us..
But where can we "go" , what can we build if we do not recognize, accept and internalize these roots? How can you build something without a basis to lay? A colossus on feet of clay would arise, then collapses, if you are not able and willing to reflect what the foundation, the origin, the basic element is.
Only from this basis we will be in a position to create things equal to the things created in the past, things outlasting the time, things of beauty, power and glory. There has to be a reason why, for example, many new buildings, houses, built within the last 50 years have clearly and quickly visually "aged", gotten old-fashioned, "unobliging", but many of the old houses still, however their condition may be, have kept theircharms, keet their hearts. Perhaps this is so because what was previously was more "human", more rooted, more genuine?

However, it may well be that the generations before us have asked exactly the same questions - I doubt it, because they were less uprooted, less global, less "multicultural", perhaps even less lost and more "secure" - and also had substantially less time to have such thoughts.
That may be a conservative view of the world: but a world without traditions is a poorer world. And a culture that abandons , denies its roots, but is poaching in other, apparently more intact, cultures for something spiritually is doomed.